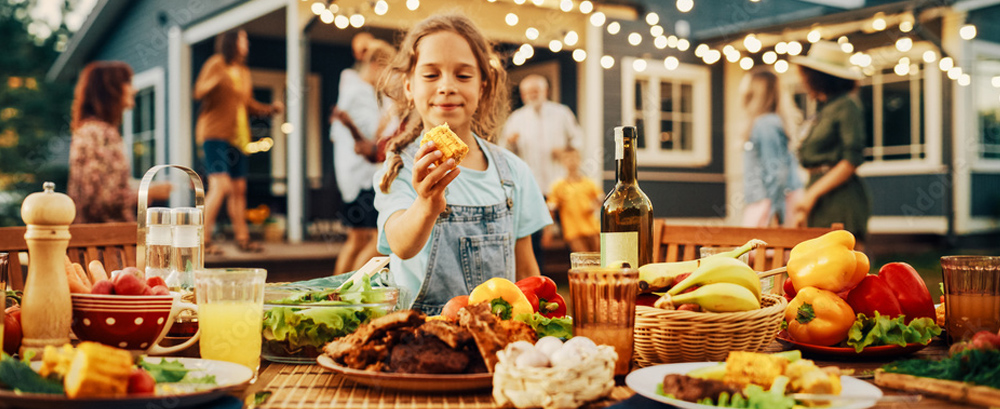 Summer is the best time of year to eat healthy and embrace nutritious eating habits. Fruits and vegetables are fresher than ever. Salads are a cool alternative on a warm day. Grilling outside is healthier than baking or frying. And the warm weather naturally motivates plenty of hydration.
It may seem strange to think of food as medicine, but what we put into our bodies—whether a pill, an apple, or a donut—can affect our overall health for good or bad. Summer is a great time to change your eating habits, try new recipes, and explore all the foods the Pacific Northwest has to offer. Farmers markets are filled with crisp vegetables, juicy fruits and berries, and locally raised meats. Here are a few ideas to change up your summertime meals.
Breakfast
Why rely on a cereal or eggs when there are so many fresh options? Start off your day with these breakfast alternatives that feature in-season fruits and vegetables.
Yogurt: Dress up fresh yogurt with berries and fruits to create a healthy parfait. Add some seeds, nuts, or a bit of granola for some crunch. Sweeten with a bit of honey.
Smoothies: Work more fruits and vegetables into your morning meal by combining almond milk, kale, fruits, and nuts into a blender. Sweeten with bananas, peaches, or your favorite berries.
Avocado Toast: Here's a new take on a breakfast muffin. Instead of eggs and sausage, slice fresh avocado onto whole wheat toast. Add slices of tomato if you have them handy. Flavor with a dash of salt.
Omelettes: Dress up the traditional omelette with kale, tomatoes, mushrooms, and spinach. First, sauté the ingredients until softened, then add eggs or egg-whites and cook until done.
Lunch
In the heat of summer days, there's nothing better than a light, refreshing lunch. Salads and wraps are a terrific way to take advantage of everything in season.
Salads: Branch out from the usual bed of lettuce to explore chopped kale, cabbage, and spinach. Top with fresh ingredients from your local farmers market like tomatoes, cucumber, onions, mushrooms, and herbs. For an even lighter touch, consider a home-made dressing of olive oil, herbs, and lemon juice.
Wraps: Whole grain tortillas are a light alternative to bread. Stuff one with fresh tomatoes, mozzarella, basil, olive oil and a dash of salt for a caprese wrap.
Cold soup: A refreshing gazpacho can be filling and healthy. Simply blend tomatoes, cucumbers, and cilantro until smooth, then refrigerate and serve cold.
Pasta: Cook pasta and let cool, then add your favorite vegetables—tomatoes, peppers, peas, grated carrots and whatever else piques your interest. Drizzle with olive oil and a dash of lemon, vinegar, and honey.
Dinner
Washington's long summer evenings are perfect for casual, leisurely dinners. Lighter fare can fill you up without weighing you down. Those with access to a grill can enjoy cooking over an open flame.
Kabobs: Skewer a mix of meat and vegetables. Roast until the meat is thoroughly cooked and vegetable are soft.
Salad plus: Your favorite salad made from fresh ingredients and dressing can become a main course when topped with a protein. Seared fish, chicken, or meat add a hearty twist to a cool evening meal.
Nourish bowl: Also called Buddha bowls, this popular dish can be made with a variety of ingredients and flavors. A good nourish bowl will include lots of fresh vegetables, a starch like whole grain rice or pasta, and protein like chicken, beef, beans, or lentils. Click here to watch Dr. Cherese Combs, DNP, prepare a nourish bowl inspired by Asian cuisine.
Given the variety of fresh ingredients available during the summer growing season, it's a great time to experiment with new recipes, wander down an unfamiliar aisle at your grocery store, visit a farmers market and chat with the vendors, or gather your friends and relatives to try out new dishes. The healthy eating habits you pick up through the summer may just last throughout the year.